[ad_1]

Integrating billing solutions like WHMCS make customer management easier for service providers.
Luckily, VestaCP WHMCS module comes handy for Web hosts in tasks like generating invoices, payment processing, etc.
However, after installing WHMCS module on VestaCP, users may get errors due to various reasons such as missing SSL certificate, firewall bock, and many more.
At Bobcares, we often get requests from our customers to install WHMCS module in VestaCP as part of our Server Management Services.
Today, we'll see how our Support Engineers install WHMCS module in Vestacp and fix related errors.
How to install WHMCS module on VestaCP
Let's now see how we install WHMCS module as part of the VestaCP server.
1. Initially, we log into the server as a root user.
2. Then, we switch to WHMCS installation directory on the server and create a Vesta directory in the modules/server subdirectory.
For example,
cd /home/user/web/billing-site.ltd/public_html/modules/server.

mkdir vesta
3. And, we download the PHP module.
wget http://c.vestacp.com/0.9.8/rhel/whmcs-module.php -O vesta.php
That completes the set up of the PHP module.
How we fixed the common error
From our experience in managing servers, we've seen customers facing problems with VestaCP WHMCS module setup.
Fortunately, WHMCS support detailed error logging. Whenever customer report errors to us, we will enable Debug Logging from Utilities > Logs > Module Log and reproduce the error. With the help of this error log, we'll fix the error in a timely manner.
Let's take a closer look at how our Support Engineers fixed some common problems.
1. Problems with SSL
It's a good idea to install SSL on websites. Because it protects sensitive information, such as customer contact details and credit card details. Moreover customers always like to work with only trusted and authenticated sites.
However, improper installation or missing SSL certificate can interfere the working of WHMCS on VestaCP Server.
Recently, one of our customers reported failure to create a new user account in WHMCS with VestaCP. Also, they did not see any error in their logs too.
Then, our Support Engineers found that his VestaCP was not having a valid SSL certificate. If your VestaCP does not have a valid SSL, it will not send the commands from WHMCS  to the VestaCP server.
Therefore, we installed a new SSL on his VestaCP server and that fixed the error.
2. Incorrect WHMCS package settings
Often, insufficient values for web domains and web aliases also create problems. Also, it may display 500 Internal error when clicking on Accept an order. Sometimes, it will show error as follows.

Here, our Support Engineers solved the problem by changing limits set for the domain. For example, as new domain creation was failing, we increased web domains from 0 to 1 and web aliases from 0 to 1.
That's fixed the error.
3. Firewall block
Some customers forget to open the VestaCP port in the firewall configuration file after changing the port from default 8083 port. It may cause errors and block communication between server and module too. One of the reasons for the error: "Order Accept Encountered Problems" will be firewall block.
When the users click on Accept Order may get the following error.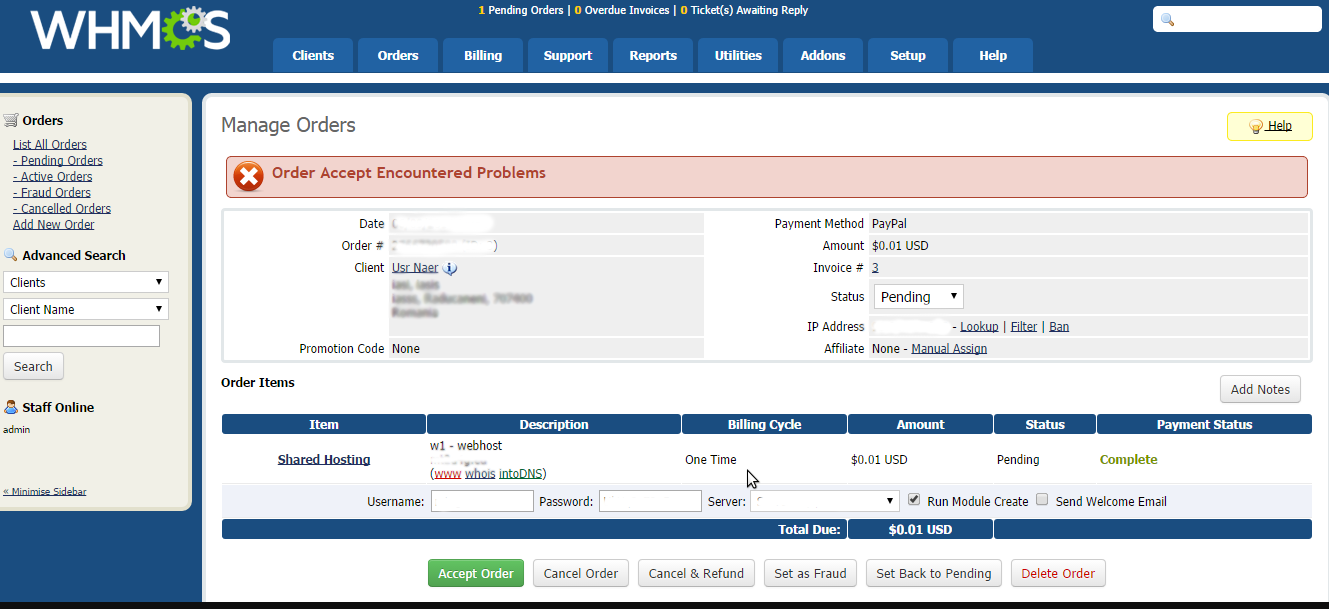 So, our Support Engineers solved the error by adding a new rule to open the port in the firewall.
For that, we log into Vestacp > Firewall > Add Rule and inserted the new port there. Additionally, we deleted the rule related to old port number too.
Firewall blocks Whois port
Similarly, another customer reported that he integrated WHMCS on the VestaCP server. However, features like domain check availability didn't work correctly. While doing domain look up, he got an error as follows.
"There was a problem connecting to the domain registry. Please try again later.
On checking, our Support Engineers found that the port 43 was blocked for outgoing connections.
So, we ran the following command to open the whois port 43.
iptables -A INPUT -p tcp --source-port 43 -j ACCEPT
[Having trouble after installing WHMCS on VestaCP? We'll fix it for you.]
Conclusion
In short, installing the VestaCP WHMCS module makes customer management simple. Today, we saw how our Support Engineers install WHMCS module in Vestacp and fix related errors.
[ad_2]

Source link