[ad_1]

Need quick, affordable SSL? RapidSSL has your back.
Founded in 2003 by Paul Tourret and Steve Waite, RapidSSL is currently one of the most affordable and low-cost certificate authorities on the market. They are owned and operated by GeoTrust (owned in turn by Symantec, and now DigiCert) the world leader in low-cost SSL solutions, which also makes them highly reliable. In this RapidSSL review, we'll give you an overview of all their features and certificates.
Review RapidSSL CA Features
Most certificates are issued within a few minutes.
Supported in 99%+ browsers.
They provide a $10,000 warranty.
Your site receives the SSL certificate seal.
They provide rapid self-sign certificates as well.
You can avail of a 30-day money-back guarantee, no questions asked.
They offer a switch enrollment program with which they extend the validity of your current unexpired certificates by 12 months unless they are Comodo, GoDaddy, or GlobalSign certificates.
Their SSL certificates are secured with the industry standard 256-bit encryption key.
You can contact them via live chat, email, or a toll-free phone number, but only during limited business hours.
RapidSSL Review of Certificates
The following are the different RapidSSL certificates you can purchase.
RapidSSL Domain Validation Certificate: These are the most popular and cheapest RapidSSL certificates available. They can be provided to anyone and they require minimal validation.
RapidSSL Single Domain SSL Certificate: These certificates can secure a single full-qualified domain name, subdomain, or hostname. No additional subdomains can be secured.
RapidSSL Wildcard SSL Certificate: This certificate is popular among small businesses with various subdomains. It can allow you to secure a primary domain along with several subdomains within that.
While RapidSSL is extremely reliable and cheap, they are also limited in the types of certificates they offer. Unlike most other certificate authorities, RapidSSL doesn't provide Extended Validation Certificates or Multi-Domain Certificates.
As such, you cannot receive the green address bar and padlock logo to enhance your website's trust. And you cannot use a single RapidSSL certificate to secure multiple domains. This makes RapidSSL unsuitable for large businesses that need to provide the ultimate seal of trust to users and that need to secure multiple websites.
RapidSSL & RapidSSL Wildcard at 87% Less Prices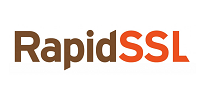 A comprehensive website security solutions RapidSSL & RapidSSL Wildcard is now available at massively discounted prices at CheapSSLsecurity.com.
Buy RapidSSL & RapidSSL Wildcard – 87% Off


[ad_2]

Source link