[ad_1]
Looking for cPanel alternative often ends up in control panels like Plesk, DirectAdmin, etc.
But, it requires a comparison of Plesk vs DirectAdmin to make the final choice.
Plesk offers a good user experience whereas DirectAdmin works faster. However, the final choice can be tough.
As part of our Server Migration Services, we help customers in choosing the right control panel.
Today, in this write up, we'll do an analysis of Plesk vs DirectAdmin.
Analysis of Plesk Vs DirectAdmin
Usually, the control panel plays a major role in managing websites on the server. Any wrong choice would make domain creation, deletion, etc. tedious.
Let's check on the top factors that our Migration Engineers look when recommending between Plesk vs DirectAdmin.
1. Supported Server type
A primary factor that decides the control panel is the type of server that the customer has. Plesk control panel can run on both Linux as well as Windows servers. However, the operating system support of DirectAdmin is limited to Linux servers.
Therefore, when a customer is having a Windows server, the possible control panel option will be only Plesk. Or, when he has a Linux server, the option can be either Plesk or DirectAdmin. Here again, the choice of the server largely depends on the type of applications that you would like to run on the server. For instance, when your customers require to run ASP-based websites, the best option would be to go for a Windows server.
2. Ease of use
Secondly, ease of use matter much when doing a selection on Plesk vs DirectAdmin. Again, the easiness depends on how the users perceive each control panel feature.
DirectAdmin is a simple and easy to use panel. Plesk has a wide feature list and hence too many options. Hence, it may be difficult for a beginner to adapt to the Plesk panel. However, when users are familiar with the options, they will find Plesk simpler.  Similarly, when a user has been already working for years on DirectAdmin, he may find it easier than any other panel.
3. Licensing costs
Of course, licensing costs do play an important role in finalizing the control panel of the server.
DirectAdmin license costs begin at $29/month which is suitable for hosting companies looking for a budget plan. Or, they have a $200 yearly plan that gives protection against the price increase. The most important attraction that makes DirectAdmin popular is the unlimited domain support in all its plans.
Again, DirectAdmin allows the purchase of 'Lifetime License' that gives unlimited domain support, periodic control panel updates and many more.
On the contrary, Plesk comes with licenses that support unlimited domains as well as a license with limited domains. For example, a base Plesk license that supports 10 domains will cost $9 per month. Plesk also has various license types for website users and web hosts. However, Plesk does not offer 'Lifetime license' and charge regular fees for as long as you continue to use their products.
4. Availability of Features
Ideally, the control panel should ease out the domain, user management on the server. For this, the availability of features really helps. Let's check on how Plesk vs DirectAdmin fares in feature list comparison.
Plesk panel comes with many built-in options for Server setup, component addition, service configurations, etc. It allows PHP and Perl scripts. Moreover, it allows the installation of applications like WordPress, Joomla, etc. with just one click of the mouse.
DirectAdmin has a user-friendly admin area. It also provides most of the same options compared to Plesk. But, DirectAdmin lacks plugins. This comes as a major drawback for hosting customers. Users may not be able to install applications on a single click. Thus, our Migration Engineers mostly suggest DirectAdmin to customers who are able to live without one-click applications.
The control panel interface of Plesk appears as: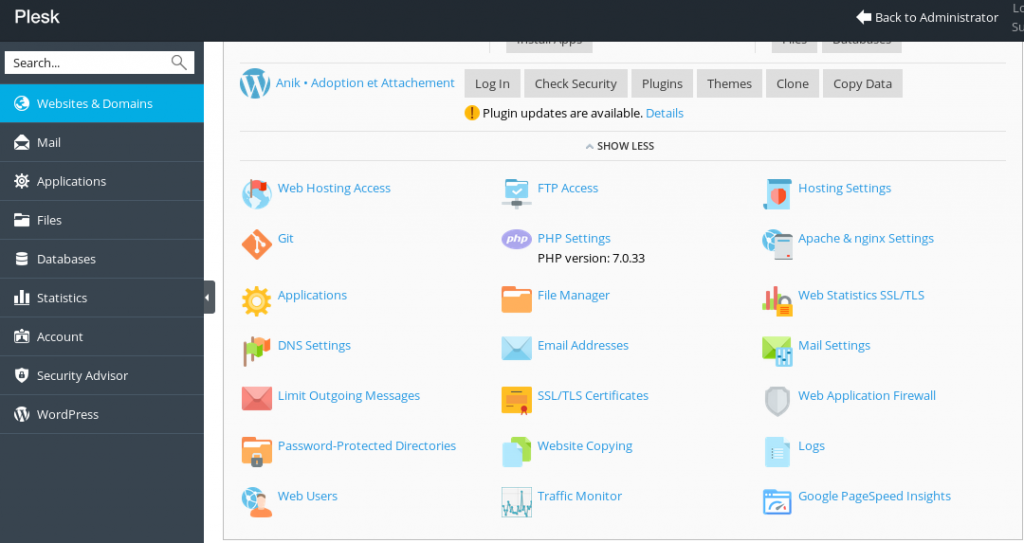 The DirectAdmin panel shows up with options allowed for Admins, Resellers, and Users.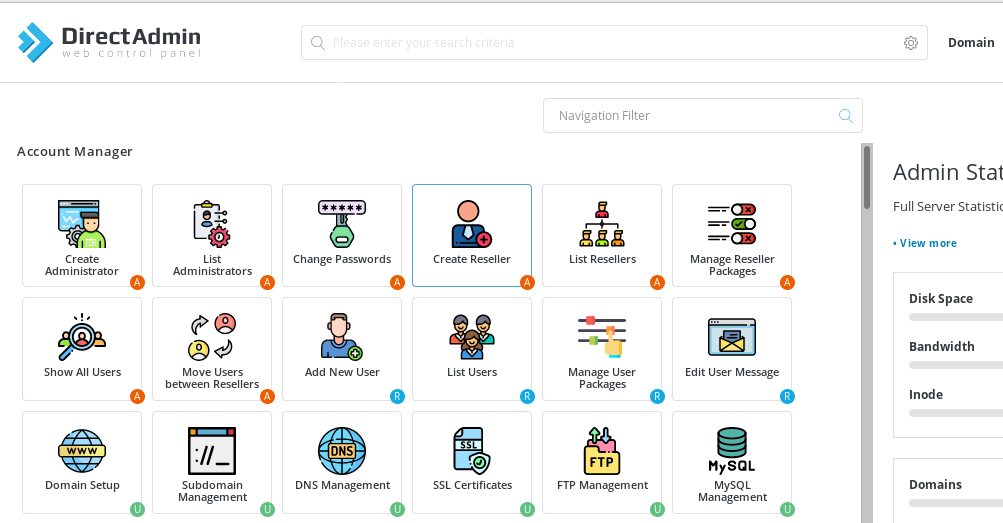 5. Server resource usage
Similarly, server resource usage can also become a major factor in choosing Plesk vs DirectAdmin.
DirectAdmin is one of the simplest control panel and functions as a lightweight option. Thus, DirectAdmin uses very little server resources. Plesk, on the other hand, offers a great user experience. Therefore, the panel may not appear as fast as DirectAdmin.
[Still confused in making a choice between Plesk vs DirectAdmin? Our experts can help you.]
Conclusion
A final word on the best control panel would be difficult. It involves a lot of factors like server type, resource availability, user crowd, availability of features, etc. This write-up on Plesk vs DirectAdmin gives an insight on how our Migration Engineers choose the best control panel for customers.
The post Plesk vs DirectAdmin – Choosing the right cPanel alternative appeared first on Bobcares.
[ad_2]