Sending emails via Gmail application is always preferable for users.
Luckily, Google offers free POP and IMAP connectivity for users who still want access through a desktop client like KMail.
At Bobcares, we often get requests to configure KMail with Gmail as part of our Server Management Services.
Today, let's get into the details and see how our Support Engineers configure KMail with Gmail and fix errors.
How we configure the Kmail client with Gmail
1. Initially, we start Kmail and go to Settings -> Configure Kmail.
2. Then we click the Accounts button.
3. Next, we select the Receiving tab, and we click on Add… button.
Here we can choose either IMAP or POP. For example, we take POP.
4. In the General tab, enter an account name and for Incoming mail server, we type as pop.gmail.com
5. After that, we fill the following fields too.
Username:- we enter the email address. For example username@domainname.com.
Password:- Enter the password.
6. Also, we click the Advanced tab and select Leave fetched messages on the server.
7. For the Connection Settings section, we select "SSL/TLS" encryption.
8. Finally, we click the OK button.
9. Now, we click the Sending tab and follow these steps:
1. Click Add… and select SMTP >> Create and Configure.
2. For "Outgoing mail server" we type as smtp.gmail.com. Also, we check the box next to "Server requires authentication".
3. For "Login" we enter the full email address and then the password.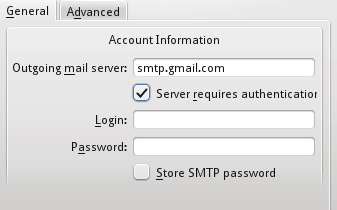 When we select "store SMTP password" it prevents you from entering the password each time before you send.
Common errors while integrating KMail with Gmail – How we fixed?
At Bobcares, where we have more than a decade of expertise in managing servers, we see many customers face problems while managing KMail​.
Now, let's see the major reasons for this KMail​ related errors and how our Support Engineers fix the top errors.
Incorrect login details
While configuring an Email client, KMail users may forget to give the right user name and password. often, this ends up with an error while sending an email.
Normally, these incorrect login details include typing errors such as extra space, typing errors in user details, etc.
Also, if the server detects a connection from an unauthorized account, it will immediately reject the mail from a non-existent client.
This is the main reason for authentication fails error.
Restricted access
Recently, one of our customers had a problem after the configuration of Gmail with the KMail client. He couldn't send or receive mails from KMail.
Then, our Support Engineers found that the problem was related to Gmail's Mail Settings. The option IMAP Access was not enabled which did not allow access Gmail from other clients like KMail.
Therefore, we enable IMAP access via Mail Settings from the Gmail account.
This is how we fixed the error.
[Need assistance to configure KMail with Gmail? We'll help you.]
Conclusion
In short, due to incorrect port numbers and bad login credentials, errors may occur while sending emails via KMail client. Today, we saw how to configure KMail with Gmail and how our Support Engineers fixed related errors.