Nowadays, thousands of websites are compromised by cybercriminals.
What do If Your website has been hacked? The first step is to restore the website from the backup.
So, backup plays an important role in data recovery. Luckily, ISPConfig allows customers to configure the backup based on their requirements.
At Bobcares, we often get requests from our customers to configure backup in ISPConfig as part of our Server Management Services
Today, we'll see how our Support Engineers configure backup in ISPConfig and fix related errors.
Why ISPConfig?
ISPConfig 3 is an open-source hosting panel for Unix like machines. It helps to manage multiple servers from a single control panel interface. Also, ISPConfig has lots of benefits such as,
Single server, Multiserver, and Mirrored Clusters
SPConfig just works on both physical servers and virtual machines.
In addition, it allows resellers to manage multiple accounts on multiple physical or virtual servers. The other attraction of ISPConfig is that the ISPConfig can be configured in one of 20 translated languages. Moreover, it supports many Linux distributions like Debian 9 – 10, Ubuntu 16.04 – 18.04 and CentOS 7.
How we take a backup of a site in ISPConfig
There are different ways to backup the complete website, either via command line or via the ISPConfig interface. However, creating a backup via the ISPConfig interface is the easiest way to perform periodic backups on a website.
Here, let's see how our Support Engineers perform periodic backups on a website.
1, Initially, we log into the ISPConfig control panel and click on the Sites tab.
2. In the Sites page, we select the domain for which we want to make a backup.
3. After that, we click on the Backup tab.
4. Next, we set up the backup, For that, we fill the following fields.
Backup Interval.
Number of backup copies.
Excluded directories.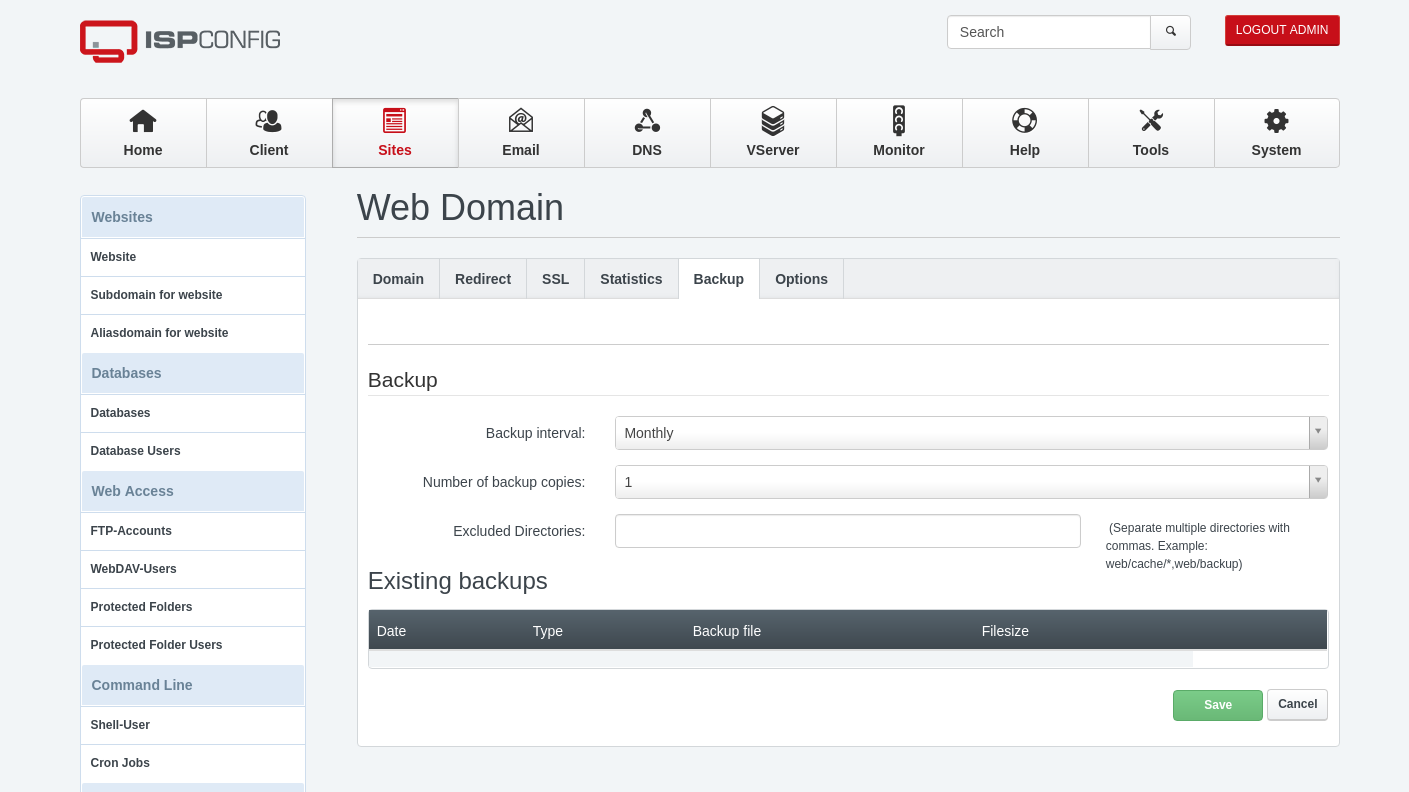 5. Once we complete it, we click on the Save button.
That's it.
How we fixed the common error after configuring periodic backup.
From our experience in managing servers, we've seen customers often facing problems after configuring periodic backup.
Now, let's see how our Support Engineers fixed the top errors.
Missing packages needed for ISPconfig backup
Recently, one of our customers had a problem while setting up a periodic backup on ISPconfig.​ And, he was trying to use the panel feature for backup. However, the backup did not generate on the server.
On checking, our Support Engineers found that zip was not installed on the server which needs to generate the backup.
So, we installed zip package on the server.
Now, this fixed the problem.
[Having difficulty in configuring backup? We'll fix it for you.] 
Conclusion
In short, ISPConfig allows configuring the backup based on the customer's requirements to prevent data loss. Today, we saw how our Support Engineers configured ISPconfig backup and fixed related errors.