Securing a website is no longer pricey!
DirectAdmin control panel support free SSL LetsEncrypt certificate.
Most users make use of DirectAdmin SSL LetsEncrypt certificate to secure web communication.
That's why, at Bobcares, we often get requests from our customers to install LetsEncrypt SSL in DirectAdmin as part of our Server Management Services.
Today, we'll see how our Support Engineers install LetsEncrypt SSL certificate and fix the related errors.
How we set up LetsEncrypt SSL in DirectAdmin
Securing websites has become an important aspect for any website. When the websites are already hosted on a VPS server, server owners prefer using free or cheap SSL certificates
LetsEncrypt has been a popular choice among website owners as it is freely available. Let's take a look on the installation procedure in DirectAdmin.
Here, our Support Engineers use the below steps to enable LetsEncrypt SSL in DirectAdmin.
1. Initially, we log into DirectAdmin control panel.
2. Then we go to Advanced Features > SSL Certificates.
3. Next, we click on the link "SSL is currently disabled for this domain. You can enable it here". And, we check Secure SSL and select "Use a symbolic link from private_html to public_html – allows for same data in http and https".
4. We save the changes and go back to home. Again, we select SSL Certificates under the Advanced Features.
5. After that, we select "Free & automatic certificate from Let's Encrypt" and select the domain that needs an SSL certificate.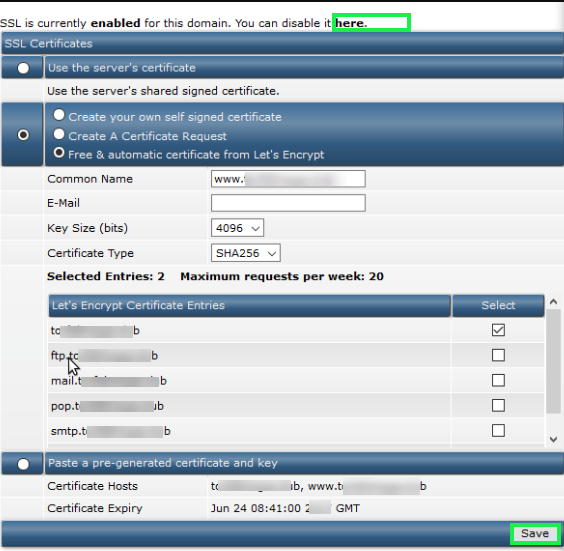 6. At last, we click the Save button to save the changes.
Now, the SSL certificate will encrypt all the traffic from the websites.
How we fixed LetsEncrypt SSL related errors
From our experience in managing servers, we've seen customers facing problems while installing LetsEncrypt SSL in DirectAdmin​. Let's take a closer look at how our Support Engineers fixed the problems.
1. Incorrect DirectAdmin config Settings
Recently, one of our customers got trouble while installing LetsEncrypt SSL on the server via DirectAdmin. He got the following error when trying to enable the certificate.
Getting challenge for from acme-server...
Error:
http:///.well-known/acme-challenge/letsencrypt_147xx6285
is not reachable. Aborting the script.
Please make sure /.well-known alias is setup in WWW server.
On checking, our Support Engineers found incorrect settings in directadmin.conf  file. Therefore, the fix was to edit the conf file.
So, we entered the entry "letsencrypt=1″ in directadmin.conf and made sure that the Alias /.well-known has been added to the file /etc/httpd/conf/extra/httpd-alias.conf. After addition, we followed the below steps to read the conf file and update configurations in DirectAdmin.
cd /usr/local/directadmin/custombuild
./build update
./build rewrite_confs
That fixed the problem and SSL got installed successfully.
2. Problem with license
Similarly, another customer had a problem while adding a new LetsEncrypt SSL to one account in DA VPS server. Also, he got this error while trying to enable SSL on one of his domain.
Cannot Execute Your Request
Details
Getting challenge for abcd.com from acme-server...
User let's encrypt key has been found, but not registered. Registering...
Account registration error. Response: HTTP/1.1 100 Continue
Expires: Wed, 03 Aug 2018 08:08:26 XXX
Cache-Control: max-age=0, no-cache, no-store
Pragma: no-cache
Then, our Support Engineers found that the problem was due to a changed license agreement. Also, it broke the Let's Encrypt client used in DA.
Therefore, we solved the error by running the following commands.
cd /usr/local/directadmin/custombuild
./build update
./build letsencrypt
After that, he could add LetsEncrypt SSL on the domain successfully.
[Having trouble while migrating the SSL to DirectAdmin? We'll fix it for you.]
Conclusion
In short, DirectAdmin is one of the cheapest control panels and provides free LetsEncrypt SSL​. Today, we saw how our Support Engineers installed LetsEncrypt SSL in DirectAdmin and fixed related errors.