[ad_1]

If you are a developer or runs a small business, you're certainly looking for some kind of free web hosting control panel.
Thankfully, the search for best free cPanel alternative often ends up in options such as Webmin, Vesta CP, ISPConfig and etc.
These are open source alternatives for cPanel with the same or additional features.
As part of our Server Management Services, we suggest efficient and cost-effective control panels for clients based on their requirements.
Today, we'll see the pros and cons of the best free cPanel alternative options based on the personal experience of our Support Engineers.
Importance of control panel in web hosting?
Basically, we can manage the website without a control panel. However, without a control panel, all user changes need command line method. It would be more complex and very hard to manage the server. Moreover, the server management itself becomes a tedious process for normal users.
But, web hosting control panels like Webmin, Vesta CP, ISPConfig make the server management easier and faster via a web-based interface.
And, the control panel software installed on any server allow users to manage the server and web hosting services.
Luckily, it always come with a graphical user interface (GUI) and they often provide one-click interfaces for processes that need a number of steps.
Also, it is capable of performing Linux system administration tasks such as installing, configuring, and updating software packages and activate applications on the websites. Again, when the control panels are open source, users can freely modify to add in new features too.
Now, let's see the top control panels for Linux web hosting that comes free or with nominal charges.
1. Webmin
Firstly, let's begin with Webmin.
Webmin find its own place in Linux system administration field through its efficiency and user-friendliness. Also, it is a web-based control panel and offers the same feature as cPanel without any of the costs.
Moreover, Webmin is able to do user account management, Apache administration, DNS and FTP configuration and much more. Also, it comes with many modules included as standard​.
If you have few simple websites on the server, Webmin can suffice all your needs.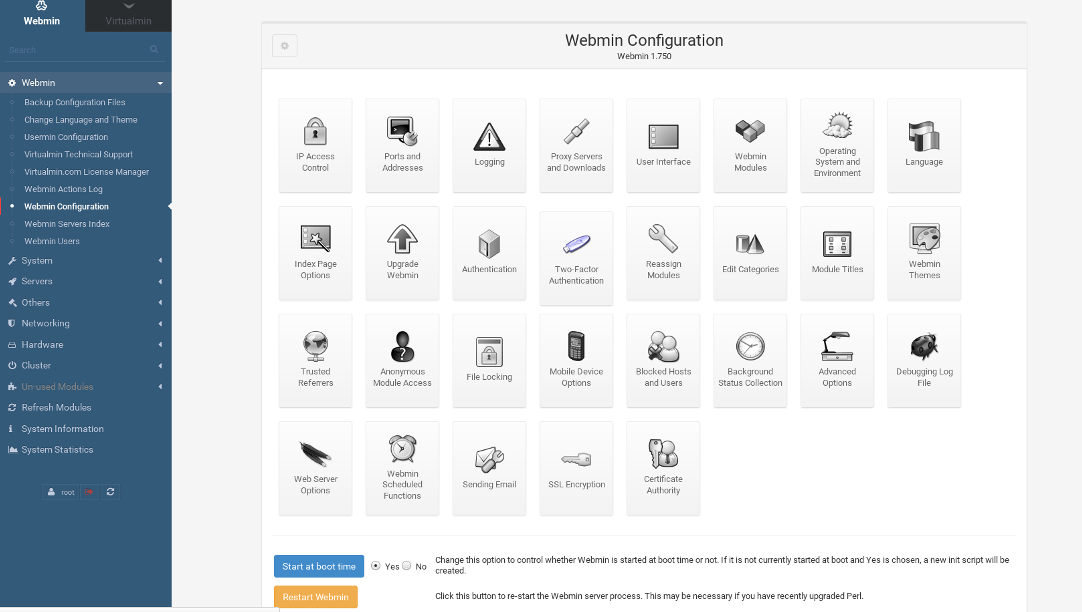 From our experience in hosting industry, we've see some customers complaining about its drawbacks like poor user interface, missing features, etc. Also, Webmin is only available for Linux servers running Ubuntu, Debian, or CentOS.
2. Vesta CP
Let's now take a look at another panel, VestaCP.
VestaCP control panel has a very simple and smooth user interface. Also, it supports running a Web server, DNS server, FTP server, database server, email server and much more. Another advantage is that we can create fast backups of the data with VestaCP backup feature.
Furthermore, graphic data display feature of help to monitor the changes occurs in the site or on the server. And, automatically produces full-color graphs of web traffic and site bandwidth with respect to the time interval. It has two access level environments as Admin and Client.
Just like cPanel, it supports the installation with automatic renewal of free Let's Encrypt SSL certificate for all domains.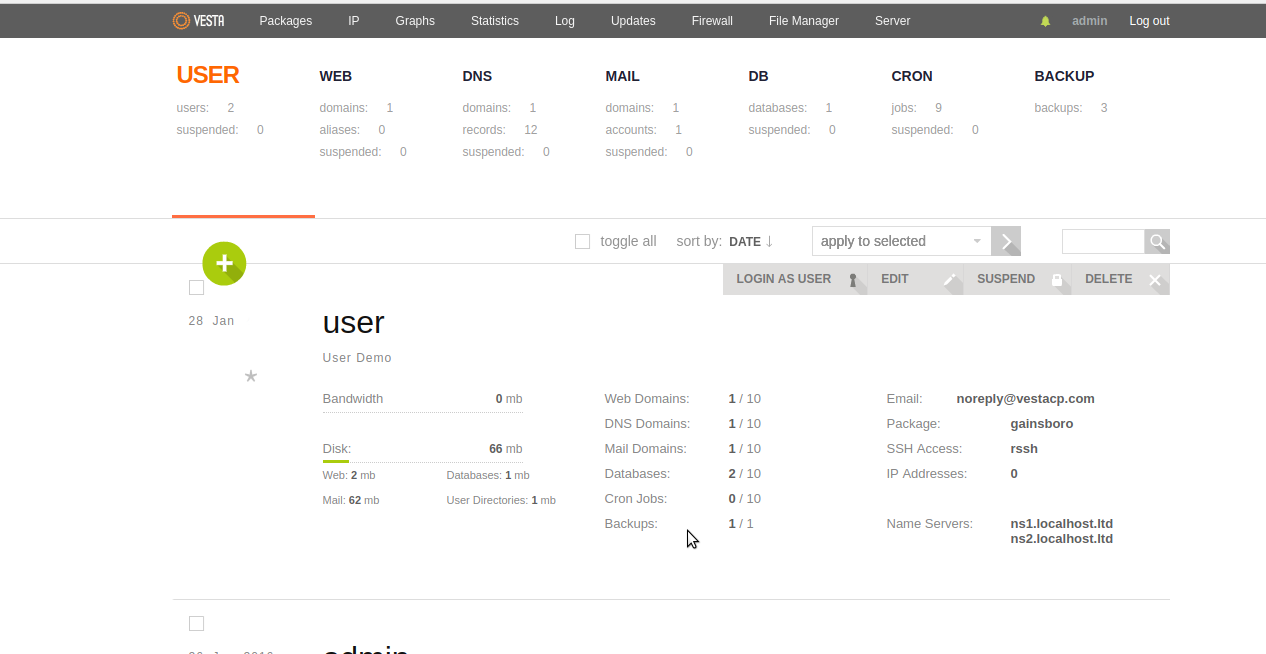 Vesta CP has several safety measures like a firewall and the ability to disable the root user. However, an improper setting in these security features leads to compromising of the sites. Although, the VestaCP license comes free, their management plans are chargeable.
3. ISPConfig
The ISPConfig is yet another popular open source web control panel that can control different activities at a time. In addition, it offers a web interface to manage multiple servers. ISPConfig supports servers such as Ubuntu, CentOS, Fedora, Debian, OpenSuSE. Thus, it comes as an option for customers who need specific flavors of Linux.
Again. it can operate in different environments like Admin, Reseller, and Client. Also, it supports Add-ons like ISPConfig 3 Billing Module, ISPProtect Malware Scanner, and ISPConfig 3 Migration Toolkit and Extensions/Plugins like ISPConfig 3 mail user interface for Roundcube & SquirrelMail.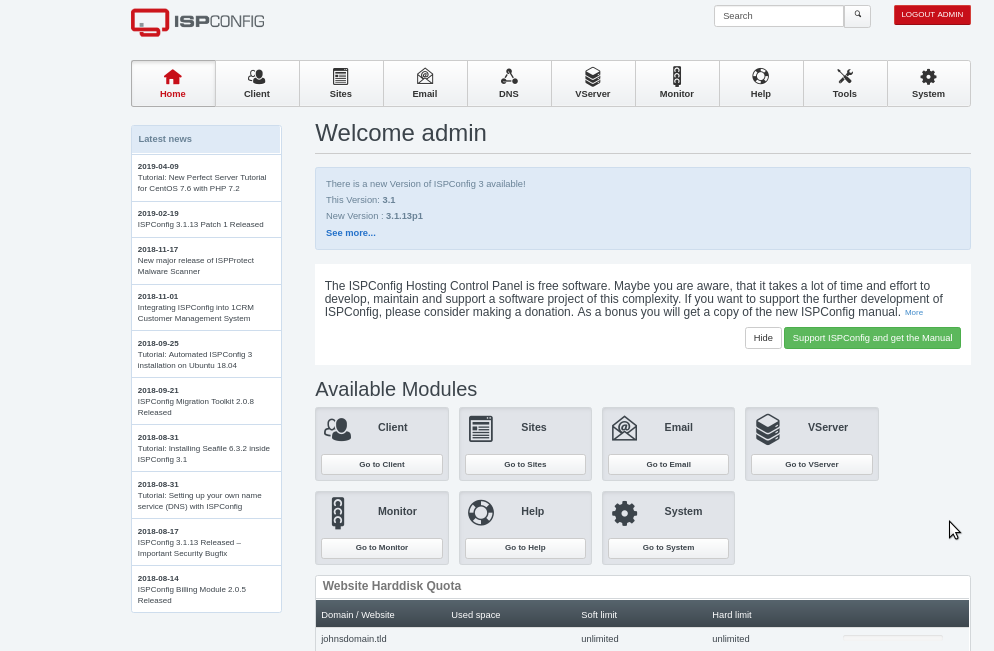 Additionally, ISPConfig 2 is a single server control panel while ISPConfig 3 works as a multi server control panel for virtual users.
4. InterWorx
InterWorx comes as a reliable option in managing websites and servers or hosting business. Naturally, it's one of the best free cPanel alternatives among the other control panels.
Also, this application is split into two interfaces as NodeWorx and SiteWorx. Server administrators manage the server via NodeWorx and website owner handle a web site through SiteWorx interface. Thus, users can easily relate to the WHM-cPanel interfaces. This make Interworx as one of the preferable alternatives for cPanel
Moreover, it supports Apache, PHP, MySQL, Perl, and Djbdns (DNS). InterWorx is accessed via https on port 2443.
InterWorx designed to focus on load balancing and server clustering and makes the system architecture much more scalable and reliable.
The main key features include billing integrations, server clustering and Separated access for Users and Admins.
However, choosing a cPanel alternative requires website migration. And, this needs proper planning to avoid website downtime. Our Dedicated Engineers always plan well ahead, taking extreme care in tasks like edit DNS settings, recheck content migration, database transfer, etc.
[Looking for a trouble-free migration from cPanel? Our Migration Specialists can do it for you.]
Conclusion
In short, web hosting control panel like Webmin, Vesta CP, ISPConfig are some of the best free cPanel alternative options. Today, we saw the positives and downsides of these control panels based on the experience of our Support Engineers.
[ad_2]

Source link